Marketing professionals know that creating a steady stream of engaging content is essential to the success of any marketing strategy. We also know that coming up with creative ideas for new content is hard; the challenge ramps up even further when these ideas have to fit into a well-constructed search engine optimization (SEO) strategy. While nearly every digital marketing strategy requires a steady stream of content to share with potential audiences and search engines (the gatekeepers to those audiences), consistently creating marketing material that meets your SEO targets is challenging, even for the most creative teams.
Most successful digital marketing systems employ some form of "content branching." Also referred to as "clustering," "hubs," or other similar terms, content branching is the preferred methodology for digital marketing and SEO professionals. Not only does it help keep your content coherent and your production team on-track, but it also produces consistent results for numerous digital marketing tactics.
So, what is content branching, and how can it help your digital marketing mix achieve reliable performance over time? Read on to find out!
What is Content Branching?
The concept of content branching is simple on the surface. In simple terms, content branching is the practice of creating multiple pieces of content focused on one specific topic or keyword. If you were to imagine your digital marketing mix as a tree, this core topic/keyword would be the trunk, with the "branches" representing unique pieces of written, visual, or other content leading back to the centre.
In the context of search engine optimization, content branching is creation of content that, when connected together, can serve as a platform for link-building and search engine ranking (SERP) optimization. A network of relevant content will build trust and authority with both your audience and search engines, resulting in higher search rankings, increased traffic, and (assuming the content is substantial and has compelling calls-to-action) more leads for your business.
What does this look like in practice? Say you're a home builder seeking to increase your SERP for keywords and topics related to "home building Vancouver". These keywords become your tree's "trunk;" maybe you already have a page on your website detailing the services you offer potential clients in this area. From there, you can build out interconnected content related to these keywords. This could be a series of blog posts detailing construction trends in Vancouver's top neighbourhoods, a 10 page ebook about preparing to build a new home, infographics breaking down typical budgets for new home builds, or even a series of time-lapse videos of your current projects in Vancouver. The specific types of content will depend on your overall digital marketing strategy, but the overall objective remains the same: to create a network of content that demonstrates your authority to search engines while providing value to your audience.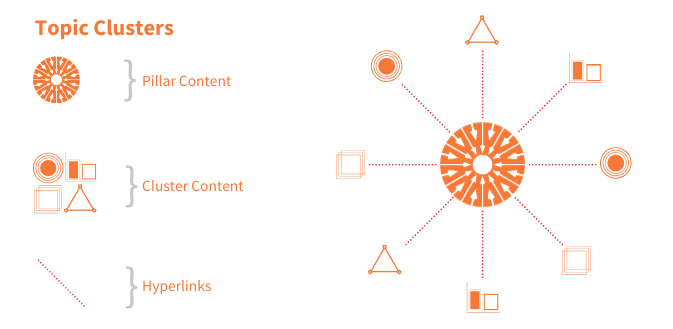 The Benefits of Content Branching
A branching approach to content creating has numerous upsides for your content creation team, your SEO, and your audiences (including search engines). These include:
Semantic Search Optimization – More and more search engine users are inputting descriptive phrases ("who are the best home renovation companies in Vancouver," or similar), as opposed to using exact keywords ("contractors Vancouver," etc.) as they have in the past. With the increasing popularity of voice technology like Siri and Alexa, this trend appears poised to continue. Content branching can help your SEO strategy adapt; your content will appear in search results more frequently thanks to the variety of content centred around the same topic.
Better SERP – Google, Bing, Yahoo, and other popular engines like content branching. Well-organized content centred around topics is easy for search engine algorithms to register as a cluster, meaning that your content will be "read" and ranked better in search results. The better your search engine ranking (SERP), the higher your content is displayed in search results, meaning more potential customers will see and visit your page.
Improved Site Organization – Structuring your site around branched content can have benefits for your site's organization and user experience. Building your website around branched content will keep relevant content clustered together, making it easy for your potential customers to find the information they're looking for.
Easier Creation and Time Management – Concerning planning, content creation, and website management, branched content is much easier to conceptualize and execute than other content creation cycles. Coming up with basic pillar content and branching out into different related content types is much easier than reinventing the wheel every cycle, and will lead to increased productivity and more effective scheduling and time management.
Additional Considerations
Although content branching can give your content process structure and set you up for SEO success, content creation is (and always will be) a time-consuming and labour-intensive process. In fact, creating and publishing content is quite literally an endless task, and can take away from other areas of your business' marketing strategy if left unchecked. If consistent content creation is straining your team's resources, consider enlisting the help of an experienced digital marketing agency who can leverage your business' expertise to create compelling marketing content that delivers consistent performance for your marketing mix.
With over 20 years' experience in the industry, Atrium Digital offers a reliable approach to digital marketing through Marketing Systems Engineering. Our programs span all areas of digital marketing and content creation, delivering consistent performance that allows your business to achieve reliable results to facilitate growth over time.
Are you an innovator or leader in your industry? Then you should be sharing your many powerful insights and ideas about your field, as it can enhance your business's or brand's authority in the marketplace. At ATRIUM, we understand...
read more