One of the most vital aspects of developing a marketing mix is a rock solid website that is designed to act as a platform to captivate and convert your customer base. In the last decade, consumers have made a drastic shift towards engaging with companies online prior to purchasing; this change in mindset means that your online presence, including your website, has become the first point of contact for both potential and existing customers. Current digital marketing standards have embraced this new mentality, meaning that it's more important than ever to ensure your website helps build authority and gives your client a tailored platform to interact with.
Are You Ready To Take The Lead With a New Website?
With newer online assets being designed to convert and build authority, the question for business owners is no longer as simple asking "do I need a website" (the answer is "yes, you do"). The more relevant focus needs to be on building a resource that both strengthens your brand and drives both online and offline conversions.
Whether you're starting from scratch or overhauling your current site to bring it up to speed, one of the first decisions you need to make is whether you want to build a website with a completely custom design, or use one of the millions of template website designs already available to purchase. Below is a brief overview of what owners and their digital marketing teams should keep in mind when crafting a website, particularly focusing on the differences between templated website designs and custom website designs.
Start With A Clear Vision
As you begin the process of approaching your web design it's crucial to remember that a website is only a single asset within your overall marketing mix. Regardless of how aesthetically appealing the final product may be, the days of "set it and forget it" are long gone. In order to guarantee your success both in the short and long term, your marketing team needs to have a definite plan in place, complete with clearly measurable goals and conversion points. Doing so will allow you to design a fit that's well suited to your business' needs and maximizes your ROI.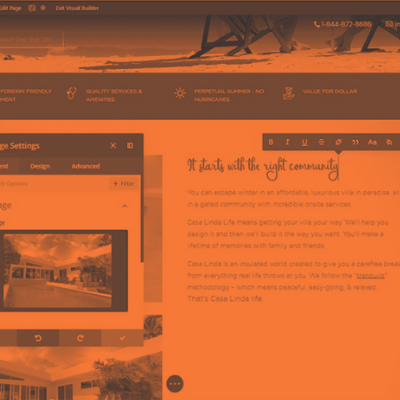 When to use a Template Website Design
Whether your current site is in need of a refresh to adhere to current marketing standards or it's your first time taking things digital, one of the first options you'll encounter as you begin your search are the many templates available. Over the past decade, major players like Wix, Weebly, Squarespace, and WordPress have become a well known resource for small business owners, as well as those in need of quick website solutions. There's no denying that templates can certainly make the initial leap to getting online simple.
Where they tend to be lacking, however, is the ability to choose your results monitoring, pairing with certain industry plugins and software, and ultimately the pivot in the future as needed. As you are locked into a template, at the end of the day, your abilities are limited to the capacity of that framework which can hinder crucial elements of growth down the line. With that being said, templated sites are often a reasonable fit for:
Individual proprietors operating on a small scale or using the site as a limited profile
Boutique popups
Those who need to get online fast
Temporary Use or Campaign Websites
Benefits of Custom Website Design
Much like the name may suggest, custom websites offer businesses the ability to be more hands on with the design process. In addition to more freedom with aesthetics, this also gives you the ability to create an asset that is adaptive, built with your specific needs in mind, and that is designed to grow in the future. For companies looking to ramp up without restriction, a custom website can be one of the strongest parts of your media mix, welcoming and educating a growing audience that's eager to connect with your products and services. Core benefits of a custom web build include:
Tailored Directly To Your Needs
No two businesses are the same; starting from the ground up means you can craft a final product that's truly attuned to your needs, goals, and your business model as a whole. While a template might be able to get you started, the custom approach is often what distinguishes industry leaders from the rest of the pack by creating a website that gets you the results you want while satisfying your customer base. A custom website designed by a talented team of designers, UX and developers can make your website resonate specifically for your ideal customers or site visitors needs and experiences.
Design The Perfect User Experience
The simple reality of the online world is, if you're not putting UX and UI at the forefront of your priorities, you're ultimately setting yourself up for failure. Template are often missing key components that affect mobile utilization, load times, and many other factors that can hinder the user experience. With a custom build, you can integrate extra layers of marketing knowledge such as your buyer personas and design the ideal online space for them to engage with your brand. Taking the time to wireframe and outline the visitor journey can help define the unique elements of your website that will stand out from the competition and delight your visitors.
Uncover Leading Insights
Knowledge is power, and when it comes to websites, one of the most powerful assets you have is access to data and insights about user behaviour, conversion points, and what needs to be changed for better results. Compiling this level of information from a template can be challenging, and is often lacking in terms of what you can collect. For businesses focused and driving the strongest ROI possible consistently, site data is an uncompromising asset to your digital marketing portfolio.
While the cost of a custom build may be more than a preset template, the vast amount of freedom to change as you evolve is well worth the initial investment.
Engineered For Consistent Success
Atrium is the world's first digital marketing agency designed to provide consistent, long-term, results by using a systems driven approach to marketing. Our team of industry experts partner with clients across to craft custom marketing mixes and assets designed to provide long-term results that keep you at the top of your field. With an award winning portfolio featuring stunning custom websites, Atrium is here to help you engineer an online presence that delivers success after success, quarter after quarter, and year after year. Our websites are tailored to meet your needs today while also guaranteeing you have access to the data necessary to grow and adapt in the future, all while ensuring your customers have a smooth experience on site.
With offices located in Edmonton, Alberta, as well as Vancouver, British Columbia, Atrium is proud to partner with clients representing a vast range of industries worldwide. Learn more about our industry changing approach to marketing, including website development, by contacting our team today.
Are you an innovator or leader in your industry? Then you should be sharing your many powerful insights and ideas about your field, as it can enhance your business's or brand's authority in the marketplace. At ATRIUM, we understand...
read more