Deciding to partner with a digital marketing agency can be a significant investment for your business and a beneficial opportunity for growth. However, before you reach the decision stage, it's essential that you have a predetermined or estimated digital marketing budget in place. Many factors can influence the extent of your digital marketing agency budget. Understanding these factors and the particularities of your business, goals, and internal situations can make partnering with a digital marketing agency like Atrium smoother. Below we'll cover the steps you should take to determine your budget for a digital marketing agency and why you should partner with Atrium. Continue reading to learn more!
1) Evaluate Your Current Digital Marketing Efforts
Before diving into numbers or even considering working with a digital marketing agency, you must understand your current marketing efforts. To evaluate your current marketing efforts, ask yourself the following:
What is your business currently doing to boost your online presence?
If you have an in-house marketing team, do they have the skills and experience to manage potential digital marketing initiatives?
Do you have a digital marketing strategy, or is digital marketing a new concept for your company?
Understanding the lay of the land is crucial as you can better evaluate what has worked, what hasn't, and if your business is ready for new initiatives. Moreover, if your company is new to digital marketing, you must consider a few critical factors before partnering with a digital marketing agency like Atrium. These factors include the "4Ps": product, promotion, price, and placement. If you do not have your "4Ps" aligned and working, your business should focus on refining them before partnering with a digital marketing agency.
Types of Website Traffic
There are many types of website traffic, such as:
Organic Traffic

Users who visit your website after their search on Google or other search engines. 

Referral Traffic

Users who visit your website through a link from a third-party website such as a blog or a forum.

Direct Traffic

Users who access your website by typing the URL into the search bar (or have your website saved as a bookmark).

Paid Media

Users visiting your website through pay-per-click ads through Google ads or ads on social media networks

Social Networks

Users access your website from posts on social media such as Facebook, Instagram or LinkedIn.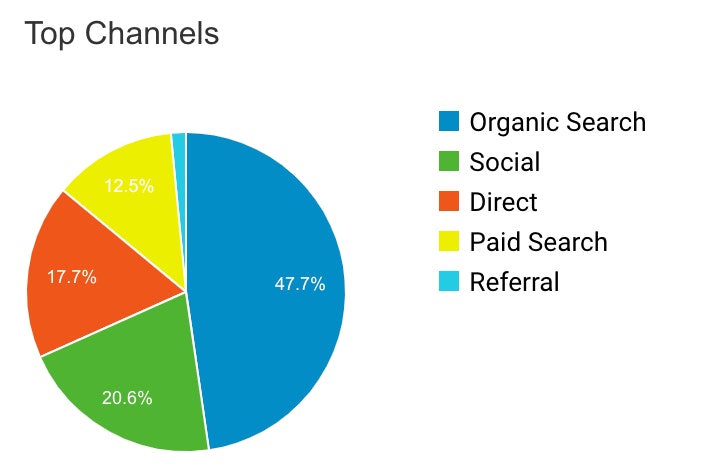 2) Review Last Year's or Quarter's Results
Once you have evaluated your current marketing efforts, your next step should be to review your data and numbers. Check out the metrics and reports from your previous quarters and years, and then ask yourself:
Were previous campaigns successful? Why or why not?
Have your previous digital marketing efforts achieved your business goals or received positive returns on investments (ROI)?
What is your current marketing budget, and is that current budget bringing in the desired results?
Does your business have the revenue and capacity to expand your marketing efforts?
If your business has not collected this data, your current digital marketing initiatives are operating blindly. Before budgeting for a digital marketing agency partnership, knowing what worked and didn't work for your company is essential. That way, an agency can better refine your future digital marketing initiatives with your business.
Moreover, by reviewing the data, you can determine if your current digital marketing strategy brings you the expected/goal ROI. Typically, most growing companies spend 10-15% of net revenue on marketing. Your business must invest a healthy portion of your net revenue into marketing. This cannot be avoided without detriment to your marketing initiatives. By analyzing your current budget and results, you can determine if you're investing enough in your marketing initiatives or undermining them with insufficient funding. If your current digital marketing strategy utilizes only some of your marketing budget, that could be a sign that it's time to partner with a digital marketing agency like Atrium.
3) Define Your Marketing Goals
Now that you know the numbers and data your business is working with, you need to look at and set some goals. Understanding your company's objectives and how you may achieve them through partnering with a digital marketing agency is crucial. When it comes to digital marketing and defining goals, ask yourself the below questions:
What do you want to achieve via digital marketing?
How much revenue do you need/want to bring in?
Are you looking to grow your business's leads, conversions, sales, brand awareness, or all of the above?
Do you already have specific digital channels, and are they working? (up-to-date website, social media accounts, online advertising, etc.)
What are your long-term business objectives? (expanding product offerings, multiple locations, international recognition, etc.)
By setting SMART (specific, measurable, achievable, relevant, and time-bound) goals, you can ensure your digital marketing partnership is helping grow your business in the direction you want. This is also beneficial regarding budgeting, as rather than throwing money across numerous channels and strategies; instead, you'll focus on the areas that will most benefit your business. Furthermore, setting SMART goals before partnering with a digital marketing agency like Atrium allows our team to ensure our programs align with your company's long-term objectives, thus enabling us to scale and grow with you.
4) Find the Best Digital Marketing Agency for Your Needs
Once you've completed the above steps, you'll better understand your available budget for partnering with a digital marketing agency. That means it's time to search for a digital marketing agency that best aligns with your business. When looking to partner with an agency, it's worthwhile to investigate their previous experience, customer reviews, program/service offerings, and industry niche. Clutch is an excellent resource for finding digital marketing agencies, as it showcases comprehensive client reviews and allows you to check out their industry niches, portfolios, location and more.
At Atrium, we pride ourselves on our adaptability, consistency, and expertise in digital marketing. As a digital marketing agency with no specific industry niche, we work with a range of companies to ensure the success of their digital marketing efforts. Our team utilizes an engineered system for digital marketing to drive leads, conversions, and sales. Atrium's digital marketing programs are crafted to fit your business model and are engineered for consistent results through a proven data-driven Marketing Systems Engineering (MSE) approach. With over 20 years of experience and a comprehensive offering of digital marketing programs, Atrium is here to help you achieve your long-term business goals.
Ready to Partner with an Innovative Digital Marketing Agency?
Partnering with an award-winning digital marketing agency like Atrium is paramount to attracting new customers, generating leads, and increasing overall sales for your business. At Atrium, our MSE approach to digital marketing ensures your business grows reliably and consistently each quarter. Our team is here to help you take your company to the next level, whatever that level may be, regarding your business goals.
We look forward to bringing innovative and engineered solutions to your digital marketing. Contact Atrium today to learn more about working with us!
Are you an innovator or leader in your industry? Then you should be sharing your many powerful insights and ideas about your field, as it can enhance your business's or brand's authority in the marketplace. At ATRIUM, we understand...
read more