What's the difference between B2B and B2C social media approaches?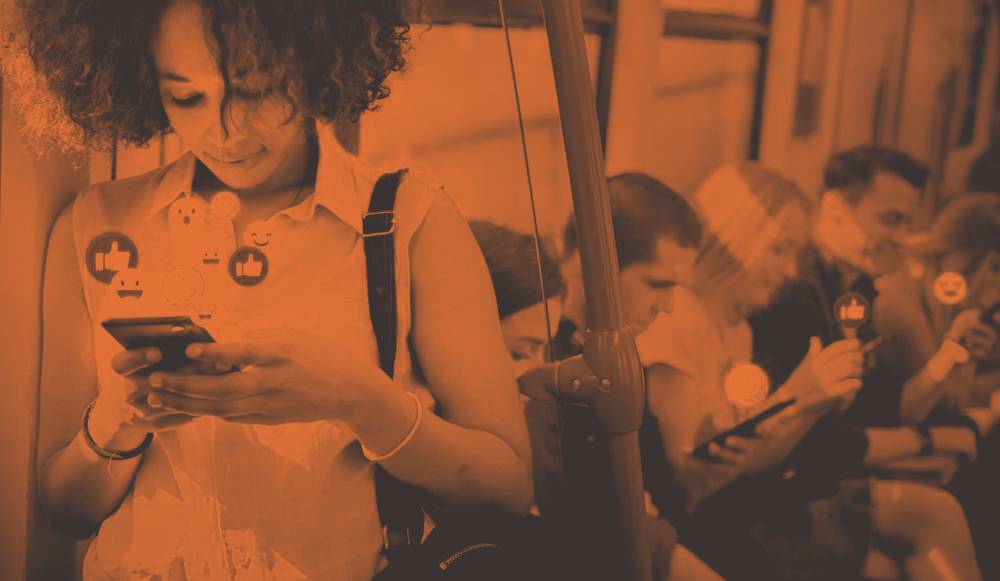 With social media being at its highest utilization in history (3.499 billion active users as of April 2019), it's clear that it can be an effective tool to be used by B2B businesses. That being said, how you approach your strategies, set your goals, and plan your content for B2B is drastically different than those preparing a B2C social media strategy.
Our goal today is to shed light on the differences and provide helpful tips to set your team up with an effective B2B social media gameplan.
1. Marketing Goals
Given the audience of B2B & B2C businesses being different, the end goals set for each business's social media strategy are naturally different. While B2C brands often focus on their social platforms to increase sales, community engagement or to build awareness, B2B brands like to focus on brand development and customer acquisition.
B2B Goals and Metrics
With the main focus typically being on lead generation, the main goal of B2B social strategies are often to funnel the user through to conversion points on their website. This can take many forms in today's digital marketing landscape:
Landing pages with relevant content leading to contact forms
Quoting tools with conversion points
Live chat
Content offers or white papers
Although this article is mainly focused on social media, it's important to note that it is very difficult for most B2B businesses to be completely satisfied with a social media campaign alone. Given a conversion point outside of the social platform is required, coupling it with a strategically build website or landing page is key.
B2C Goals and Metrics
As we discussed previously, B2C business goals tend to differ from B2B.  An encouraging factor here is that typical goals such as brand awareness or engagement provide measurement directly through the social media channel itself and tend to not require outside conversion points.
That being said, creating highly engaging content that has the potential for virality is important. The more people you can reach in your targetted audience, the higher the chance your goals are met. Some areas to measure success can include:
Increases in social metrics such as likes, shares, comments, and followers
Social traffic coming to your website
Click-throughs
Conversion metrics such as downloads or registrants.
2. Content
When most people think of the term 'content', they think of text on a website, when in reality, content can mean a lot more. This stands to be true across many marketing channels including social media marketing. 
Content on social media channels are a lot more than just words about your company values, industry news or services. Your content has the opportunity to stand out and be engaging. Although each social media platform is different, the majority give you the flexibility to post content in unique ways. Whether it is video, audio, downloads, or animations, push to make your content not only relevant but engaging.
Your targetted audience is actively needing your product or service. They are consciously or subconsciously looking for content that relates to their world and provides value. Crafting your content in a way that speaks their language, meets them right where they are at while making you the thought leader on the topic should always be your main focus. 
By thinking this way, your bound to create content that gains the most engagement and interactions which will help your post be at the top of your reader's newsfeeds. If you're in front of your targetted audience on consistent bases, then your business will be at the top of their mind when requiring the product or service your business provides.
For B2B businesses, there are obvious strategies surrounding consistent activities amongst your industry such as comments, shares, and likes. But, keeping in line with what your users are looking for, don't forget to create and link to relevant content on your website. Examples could include blog posts, case studies, new video content, white papers, or even registrations such as webinars.
In a similar fashion, B2C businesses have an audience that also is actively looking for your products or services. The largest difference here is that the content produced is typically produced in a more casual form being more relatable to the individual's life as opposed to the person's role in a business.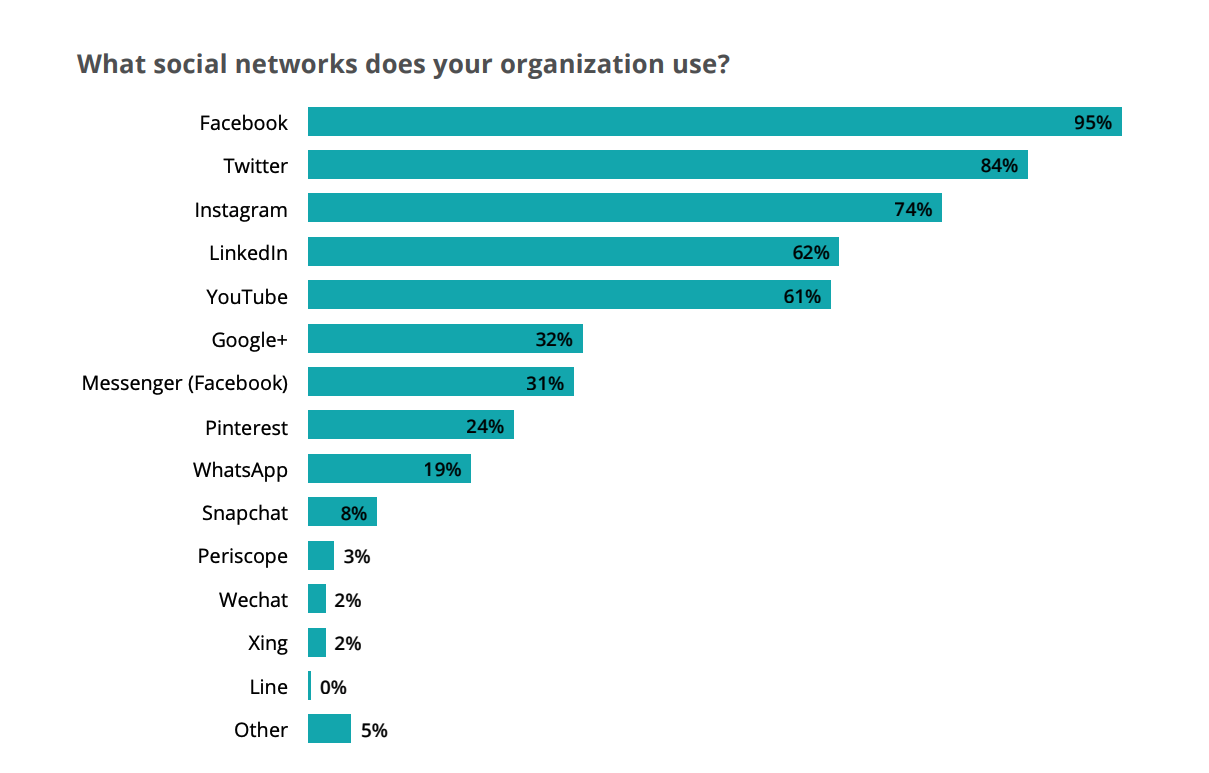 3. Channels
It's not uncommon for Marketing Managers to debate on which social media platforms should be included in their marketing mix. It's also common knowledge that there are a large sum of platforms that exist with new ones appearing each year. Facebook, LinkedIn, Twitter, Snapchat, Instagram, Pinterest, etc., where does one start?
First, you must start by understanding that each platform operates differently and thus social media users utilize each platform for different reasons. For instance, LinkedIn has solidified its self as the staple platform for all things business and career. Twitter's instantaneous nature has provided users the ability to get quick updates on celebrities and news. Facebook and Instagram have become the 'go-to' for people to connect with others on a personal level. Each platform should be viewed independently and with different purposes.
Currently, specific social media channels such as Twitter, Facebook, Instagram, and LinkedIn have maintained a consistent trend as the major platforms for B2B communicators to utilize.
Hootsuite's 2019 Social Media Barometer as given us great insight as to what companies globally are focusing on when it comes to specific social media platforms.
4. Timing and Frequency
As we just learned, users utilize different platforms for different uses, however, they also utilize the platforms at different times. This means that there are more preferable time periods throughout the week or day that can provide your content to have more engagement. Depending on your audience, targeting users while they're at work, on lunch, or at home during specific hours of the evening or weekend, could bring a drastic difference in your levels of ROI.
For instance, Sprout Social has put much effort into understanding analytics to determine when these best posting times are and have found that this can even vary depending on the type of post or industry you're in. For example, below is a chart from Sprout Social providing insight as to when the best time to post on Facebook about Consumer Goods would be.
As these trends can evolve over time, we recommend two approaches to ensure optimal results:
Many social media software exist such as Sprout Social and HubSpot that provide insights on when is the optimal time to post your specific post to each subject channel. Investing in software may be a wise choice both short and long term.
Build routines into your workweek to analyze the data collected from your posts. What were your engagement levels at different times of the day? Were they successful drawing engagement?
Social media has become a cost effective and potentially very impactful marketing channel for businesses. It's a great way for you to build new relationships while reinforcing good retention with current ones.
Try and keep your content relevant to your individual audience while pushing to get the most engagement you can with eye-popping imagery, videos, etc.
With the proper strategy in place and measurement focused on, your social media program can be highly effective.
Are you an innovator or leader in your industry? Then you should be sharing your many powerful insights and ideas about your field, as it can enhance your business's or brand's authority in the marketplace. At ATRIUM, we understand...
read more