How should I spend my digital marketing budget?
Getting your website the traffic it needs to drive results can be tricky. In most industries, competition is stiff; it can feel like there are millions of sites vying for your audience's attention. More often than not, this isn't far from the truth!
So how can marketing professionals drive traffic to their website? Two of the most common strategies are paid advertising and search marketing. While both have proven to be effective, it can be challenging to determine which approach will work best for your business.
To help get you started, we'll be comparing paid advertising and search marketing, outlining the strengths and weaknesses of each strategy. While there is no single solution for everyone, understanding the pros and cons of each approach will help you build a marketing mix that meets your business' needs and empowers you to deliver consistent results.
What is Paid Advertising?
Although over 615 million devices use some form of adblocking today, online advertising remains one of the most effective ways to reach your audience. Whether it's Google Ads or traditional display and banner ads, there are still numerous effective options available to marketing professionals. No matter what platform you choose, paid advertising is all about creating a targeted, compelling ad and placing it in front of your audience now.
The main benefit of paid advertising is how quickly it can generate exposure and traffic to your website. Once you purchase advertising space, your message is there. If you decide to spend more money, more people will see your message immediately. If you stop bidding on keywords and buying ad spaces on websites, your traffic will drop. On its surface, paid advertising is simple, easy to understand, and generates immediate exposure for your business.
Although paid advertising is extremely effective at quickly generating traffic, it's not always the right traffic to drive conversion. While well-crafted advertisements should resonate with users no matter where they are in the buyer's journey, it's almost impossible to create a "magic bullet" ad that compels everyone to become a customer right away. As such, conversion rates from paid advertising tend to be lower than other digital marketing strategies.
What is Search Marketing?
Search marketing is the practice of establishing search ranking superiority for your website by creating meaningful and valuable content, such as informative blogs and targeted landing pages. Depending on the quality and relevance of your content, search engine algorithms will "rank" your content in their results, with the best sites appearing higher and more often in user searches. High-quality content will increase your site's search ranking, increasing traffic from users who are already interested in your business' products and services. Typically, these types of customers convert very frequently.
It's important to note that search marketing success doesn't happen overnight. Search engines like Google need time to read, organize, and ultimately rank your site. It can often take 6-9 months to see results from search marketing, sometimes longer in competitive fields.
However, successful search marketing will function as a consistent traffic source for your website. The content you create will drive users to your website for as long as it remains posted. This means creating and publishing a steady stream of content over a long period of time will allow you to maintain and grow your traffic, expanding your audience and consistently generating results.
Cost and ROI
Evaluating your return on investment (ROI) is an essential component of any marketing strategy. Not only is it necessary to track your progress to make continual improvements, but it is also vital to demonstrating value to your business and its stakeholders.
In terms of ROI, the most significant difference between search marketing and paid advertising is the cost structure. Whereas paid advertising is generally a static, unchanging expense, the cost of search marketing will gradually change over time.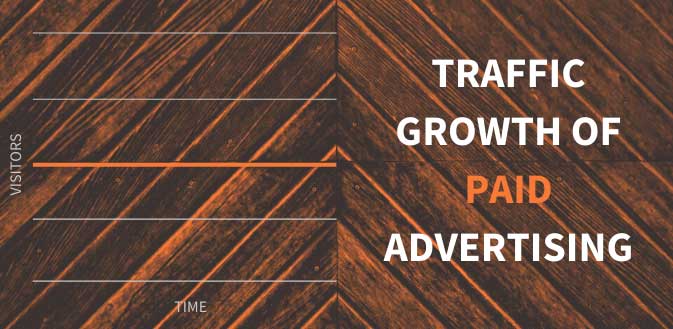 Paid Advertising Costs
A paid advertising program will typically have a static, inflexible price determined by the ad network or platform you're advertising on. For example, Google sets ad prices around keywords and targeting metrics based on demand (how many people are searching for your terms) and competition (how many other advertisers are purchasing ads around your keywords). Ad prices are then set by a competitive auction where clicks are bid for by rate, Cost Per Click (CPC). Though prices can (and do) fluctuate over time, significant changes typically only correspond with dramatic shifts within your industry.
As such, digital marketers can expect to pay roughly the same amount month-to-month for their paid advertising. As an example, if you spent $100 to gain 100 new visitors to your website, you can expect to pay the same amount to get the same number of visitors the following month. The more money you budget for paid advertising, the more traffic your website will receive.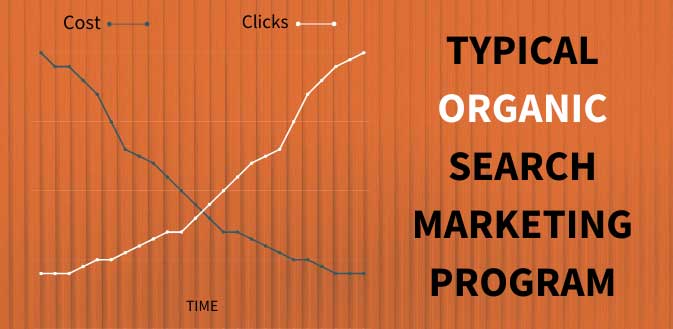 Search Marketing Costs
Whereas paid advertising has a tidy cost structure, search marketing is a bit more complicated.
Why? Search marketing programs operate by building on the momentum your content produces over time. It may be months before you begin to see a return on your investment (i.e., increased website traffic). Still, once your content begins gaining traction with a platform's algorithms, it will continue to produce results for as long as it's online.
Whereas paid advertising programs require a constant investment month over month, search marketing programs continually build value over time. Your blogs, testimonials, and web pages you create will continue to attract more users to your site, build authority with Google, form trust with your audience, and increase overall conversion. The cost of creating content should not be ignored; good content will continually require time and money to produce. Nonetheless, investing in search marketing will provide benefits that last longer than most paid advertising programs.
So, Where Should My Business Invest?
Every business is different. Depending on your industry, audience, the current status of your web presence, and your overall business objectives, a unique blend of marketing efforts will be required to achieve consistent results.
For new businesses or those looking for fast results, paid advertising is the ideal starting point. Its ability to immediately generate traffic and demonstrate ROI will kick start your performance and compliment your other digital marketing strategies, so long as you continually invest in it.
If time is on your side, and you're looking to build a rock-solid foundation for your digital marketing mix, there is no better option than search marketing. While it won't give you overnight success in the same way paid advertising will, establishing search ranking and authority will lay the groundwork for all future digital marketing efforts. A well-executed search marketing program will make other tactics more effective and empower you to produce consistent results over time.
While paid advertising and search marketing can both work well on their own, they perform best when used at the same time as part of a broader digital marketing strategy. With paid advertising gaining short-term traction and search marketing establishing a solid foundation over time, businesses using both will be able to achieve consistent results in both the short and long terms. With each tactic supporting the other, marketing professionals using both paid advertising and search marketing will have a well-balanced, high-performing marketing strategy for their business.
Closing Thoughts
Before committing to and investing in a digital marketing strategy, businesses should take time to audit their existing web presence. Understanding your current strengths and weaknesses will allow you to craft a digital marketing mix that suits your business' current needs.
No matter which digital marketing strategies you choose, a steady stream of high-quality content is absolutely essential. Creating and publishing content takes time; often, businesses and marketing professionals underestimate how labour-intensive crafting and maintaining a digital marketing mix can be. A digital marketing agency with experience engineered marketing programs for consistency can help you elevate your paid advertising and search marketing programs and help your business grow.
Does your B2B company have a solid digital presence that your current and future customers can easily find? Crafting an online presence that drives traffic, leads, and sales for your business can be challenging to manage in-house....
read more