As a small or medium-sized business owner, you're probably looking to stand out and create a strong online presence. Unless you've created a product or a service that no one has ever done before, your business is not exactly the first of its kind out there. You've already discovered that hundreds (if not thousands) of other small and medium businesses offer the same product or service that you do. So the question here is, how do you stand out in an increasingly competitive marketplace?
With a limited budget for advertising, most small and medium businesses decide to put all their financial resources into online advertising. While PPC ads, display ads, and Facebook & Instagram ads help you reach your target audience and increase your ROI, they often fail to produce the results you're looking for without the help of Search Marketing. Continue reading to learn more about the benefits of search marketing to your business and how to choose the right search marketing agency for your business model.
What is Search Marketing?
There are two main categories of search marketing; organic search engine optimization (SEO) and pay-per-click advertising (PPC). The common denominator between SEO and PPC advertising is that they both target online audiences on Google.
Both PPC and SEO help your business in different ways. For example, if you're looking for 'quick wins,' PPC ads will help enhance your business's online presence in the short term by allowing you to immediately reach your customers as soon as they type in a certain keyword. Conversely, SEO helps drive traffic to your website by improving its visibility to Google and its users in the long run.
As the name suggests, PPC advertising allows businesses to rank for keywords and show up in Google search results. When launching your PPC ad, you only pay when an online user clicks on your ad to call your business or visit your site.
Unlike PPC, SEO is a free practice that helps your site appear more often in relevant searches. With SEO, you create clear, descriptive and helpful content on your site that includes relevant keywords your users search for when looking online for your product or service.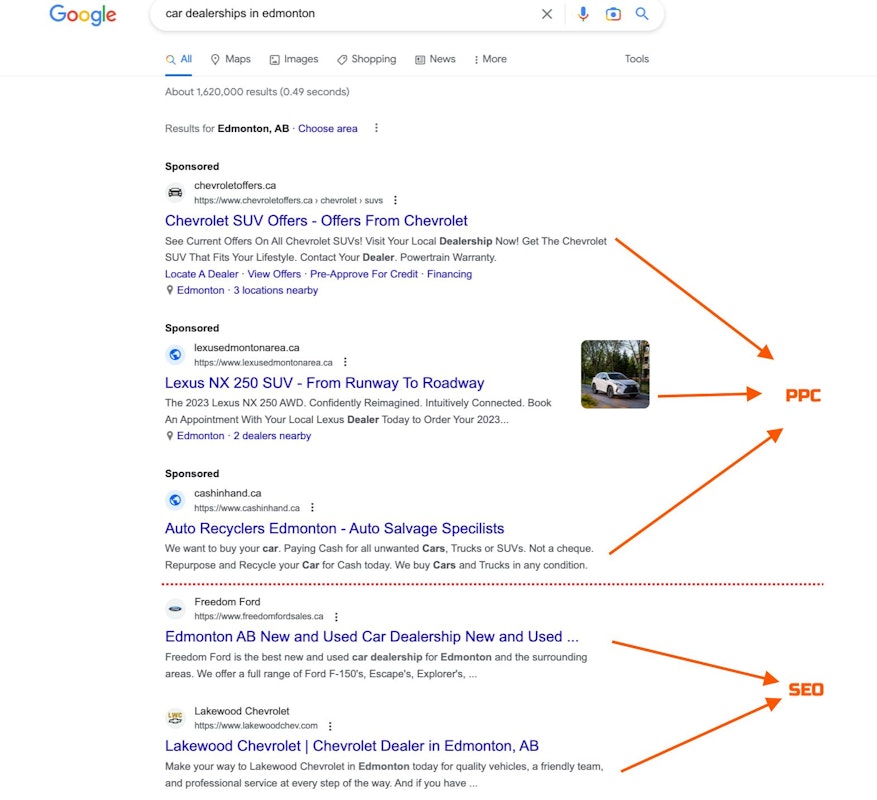 How Can Search Marketing Benefit Your Business?
Search marketing is one of the most powerful online marketing tools nowadays because it has the ability to reach your audience in each stage of their buyer's journey.
Say you're a car dealership in Edmonton, and you'd like to advertise a new shipment of 4×4 vehicles. You can do so by targeting buyers in the awareness stage and uploading content that answers the following question:
Why does my car skid so easily?
When the buyer lands on your website, they'll find information regarding their problem and how 4×4 vehicles can help them overcome it. This will then lead them to move onto the second stage of the buyer's journey, which is the consideration stage.
During the consideration stage, the buyer clearly understands their problem and is looking for available options to solve it. Using your website, you can upload content that can answer the following question:
How to give my car more traction on snow?
You can use this stage to your benefit by educating the buyer on the importance and benefits of buying 4×4 vehicles. Once the buyer has done their research, they'll move onto the decision stage, the final stage of their buyer's journey.
Since you've already helped the buyer understand their problem and find a solution, they are now looking to compile a list of available 4×4 vehicles. Using your website, you can then create PPC ads with the latest 2023 4×4 vehicles or upload content that answers some of the following searches to help them make a decision:
4×4 vehicles under 30,000 CAD
Financing 4×4 vehicles
4×4 vehicles for sale near me
As you can see, using both PPC and SEO can help you tailor your sales process to the buyer's journey. With each stage, you can give them the information they're looking for while highlighting the unique selling proposition that makes you stand out from the competition.
Factors For Selecting a Search Marketing Agency in Canada
Now that you've seen the importance and impact of search marketing on your businesses, it's time to partner with a search marketing agency in Canada. Search marketing experiences change like no other marketing discipline since Google constantly tweaks its algorithm. With the latest launch of AI platforms, Google has updated its algorithm to address AI-generated content. Partnering with a search marketing agency will ensure your content is up-to-date and aligns with Google's constant algorithm tweaks.
A search marketing agency will also ensure that your search marketing strategy aligns with your business model. They'll help you target the right keywords, create content for each buyer's stage and constantly optimize your website to ensure that your business goals are met. Search marketing is known to significantly grow your business, which is why you should partner with a search marketing agency that can fulfill your needs and keep up with your growth.
Looking For a Search Marketing Agency in Canada?
We don't really like to talk about ourselves. Instead, read what our long-term clients have said about our services and partnership. All reviews are written by our clients with no interference from our agency. We believe in full transparency.
Contact us today to speak with one of our marketing specialists about our search marketing services.
Are you an innovator or leader in your industry? Then you should be sharing your many powerful insights and ideas about your field, as it can enhance your business's or brand's authority in the marketplace. At ATRIUM, we understand...
read more